Posted by Toby Adkins, Numismatic Scholar for currencyandcoin.com on Jul 27th 2023
In 2021 the United States Mint decided to do a tribute to two of the most iconic Silver Dollars ever produced - The Morgan and Peace Silver Dollars. They were an immediate success with collectors, even to the point of sell outs that angered more than a few collectors! In 2023, the Mint released them again in July. Before you ask, they are already sold out again! However, through the frustration, they have reinvigorated those looking for original Morgan and Peace Silver Dollars. I'm sure many of you already have some of the originals. To answer some of the questions I have been hearing on collecting strategies, let's take a look at the Top 5 ways to begin collecting these popular antique dollars.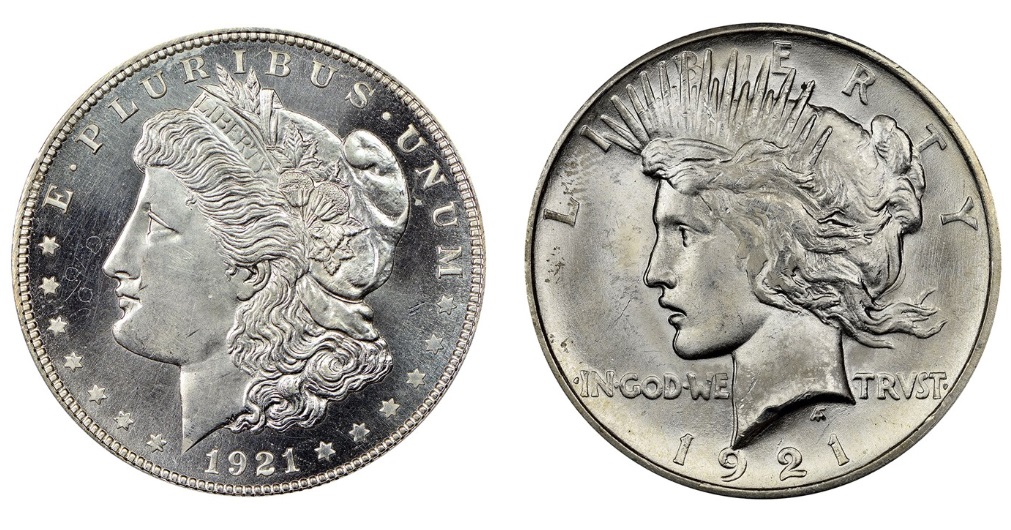 With close to two hundred of the Morgan and Peace Dollars that make up an entire collection, this is an undertaking most collectors will never do! There are definitely some that have, some that are close, and some who gave up a long time ago. With the new remakes of these beautiful coins a lot of collectors are just visiting or have started revisiting the original Morgan and Peace silver dollars. The strategies below are not a comprehensive list but good plans, especially for the new collector to have some fun putting a collection together. They will be listed with the least expensive first.
Top 5 Collecting Strategies
A SINGLE EXAMPLE - One Morgan and one Peace Silver of any date. This would obviously be the least expensive way but also could be worked into the other strategies in the future.

FIRST AND LAST YEARS - This strategy has been utilized in all types of coin collections! First and last years always resonate with collectors of all types, not just coins. A good example is baseball cards or stamps. This is also an excellent starting point if one day you decide to take your collection further.

DECADE SET - Just like it sounds, a single coin from each decade. For Morgan Dollars, 1870's, 1880's, 1890's, 1900's, and a 1921. For peace Dollars it's very easy! One from the 1920's and one from the 1930's. I want to make a note here of how these set's can build on each other. For example: if you already had the first and last year set above, you would only need 3 Morgan Dollars to complete this!

MINTMARK SET - This would be a coin from each of the production mints. For the Morgan Dollars it would be Philadelphia, Denver, San Francisco, New Orleans, and Carson City. For Peace Dollars it is Philadelphia, Denver, and San Francisco. Again, with a little planning, you could almost complete this set within the Decade Set mentioned above.

DATE SET - This set can be a little intimidating and there are a couple of definitions of what it looks like. On the surface, it would be a Morgan and Peace Dollar from every date but the mintmark doesn't matter. However, there are several dates in the 1890's that are hard to attain regardless of mintmark. Like most things, this will most likely be a budget or condition issue to take into consideration.
There are a couple of other things to take into consideration if you are a beginning Morgan Dollar and Peace Dollar collector. Seasoned collectors most likely know the following.
DON'T MAKE UNEDUCATED COMPARISONS - This may sound a little rough but it's best to learn early. If you have recently purchased the brand new 2023 Morgan and Peace Silver Dollars, you WILL NOT find the same conditions in the older coins! This sounds like common sense but the new coins have no wear, bright shining surfaces, and have been handled with care. This just doesn't hold true with antique silver dollars that were minted for use. There are also a lot of nuances in the older coins depending on where they were minted. Some mints were known for weak strikes, others for lots of bag marks, and some simply were produced in such low numbers the better examples are very rare. None of the antique coins will all look alike in that regard.

PRICE - This one is multifaceted due to several different factors. With the new coins, most of your price differences really just depends on grade. In the Morgan and Peace dollars, the same year coin can vary greatly in cost. Where the coin was minted, production versus survival rates, and condition can change price drastically within only a grade point or two. All of these things really come back to rarity. Click HERE to read more about rarity and how it is determined.

COUNTERFEITS - Your brand new 2023 Silver Dollar probably hasn't been counterfeited... yet! The Morgan and Peace Dollars have been around for so long and counterfeited for so long, you'll want to be careful. You should consider purchasing certified coins, when possible, for a rare year or mintmark. The old adage is especially true with coins: "If it's too good to be true it probably is."
Lastly, I'll leave you with this. Ask questions, learn. Grab a Morgan Silver Dollar and Peace Silver Dollar book. One of the best things you can do is befriend a coin dealer! I know it seems self serving but we see more coins every day than some of you may see in a decade or possibly a lifetime. We enjoy it too. It's fun to see a customer finally grab the last date they need or finally find the Carson City mintmark they have been looking for. However you start collecting the Morgan and Peace Silver Dollars it can be a fun and rewarding adventure. Happy collecting!