Posted by Toby Adkins, Numismatic Scholar for International Currency on Nov 21st 2017
Since the release of the American Platinum Eagles in 1997, there has been much talk of releasing a palladium coin for United States collectors. When the price of platinum soared to almost $2,000 an ounce a palladium coin seemed like an extremely good idea! In 2010, public law 111-303 was passed in order to strike a U.S. palladium coin. Finally, after years of talk and planning it is a reality... introducing the $25 American Palladium Eagle.
The obverse features Adolph Weinman's well known Winged Liberty design first introduced back in 1916. The Winged Liberty so closely resembles the Roman god Mercury, many collectors will automatically recognize the "Mercury Dime" design.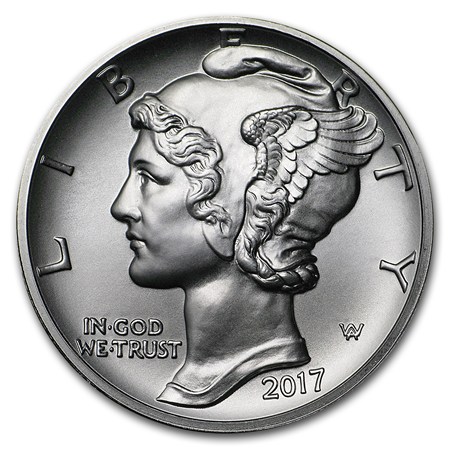 The reverse of the coin will also look a little familiar. At first glance it is very similar to the reverse of the Walking Liberty Half dollar also designed by Weinman. It is actually off of the medal he designed in 1907 for the American Institute of Architects. The coin itself has a lot of "firsts" that make this a truly collectible coin. It is the first U.S. palladium coin made, it is the first 1 oz coin to bear a $25 denomination, and is the first bullion coin released with just a single denomination offered. Then to top it off, the Mint struck this coin as a High Relief, a design element usually saved for the collectible commemorative or special issue coins.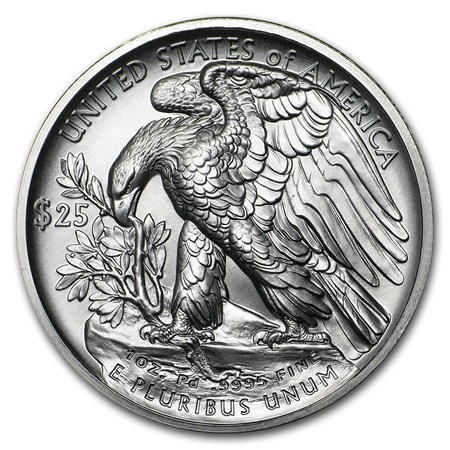 Why you have not seen this

To be completely fair, the coin was released around two months ago and I know many of you are aware of this coin. However, many of you are not because they were not released directly from the Mint. Public Law 111-303 deemed the 1 oz .9995 pure $25 American Palladium Eagle to be a bullion coin and be released to the public through their group of authorized purchasers. That being said, the Mint has not entirely treated this as a typical "bullion" release. Currently, the Mint shows just 15,000 coins struck making it the rarest release of any bullion coin in the entire bullion Eagle Program. The high relief design is also a feature typically reserved for commemorative or special release coins and has not been used on any other coin in the bullion Eagle Program. Waiting to release this coin during the Mint's 225th Anniversary year has also raised a few eyebrows. Let's throw in that as a metal, palladium is over 35 times more rare than gold... this is one special coin!