Posted by Toby Adkins, Numismatic Scholar for International Currency, L.L.C. on Sep 3rd 2020
All of us are aware of the effects Covid-19 has had across our world. In coins, one of those effects was the closing of the West Point Mint and the San Francisco Mint. Since West Point is the main producer of the bullion Silver and Gold Eagles, 2020 issues dried up very quickly. With the reopening of the West Point Mint in July, the Silver and Gold Eagles are beginning to flow again. The availability is not yet to pre-covid levels but at least some of the panic buying is beginning to slow. During the shutdown, the Philadelphia Mint was pushed into service to make 2020 Silver Eagles and are known as the "Emergency Production" Silver Eagles. Why is this important?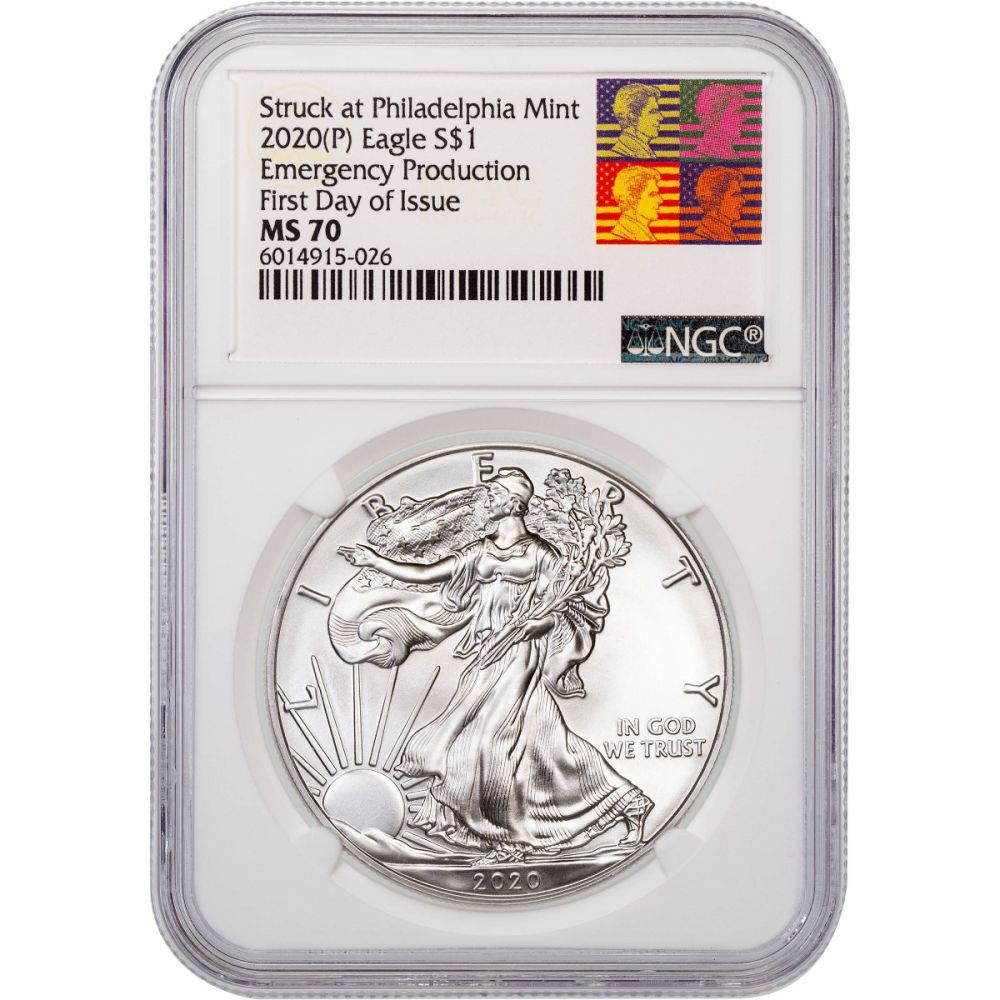 So is this important? Yes it is! As you can see in the above picture, this run of coins has been deemed as "Emergency Production" but this is not the first time the Mints have shifted around Silver Eagle production. The lion's share of the bullion Silver Eagles has been struck at the West Point Mint for the past two decades. In the past, there have been a handful of years where the West Point Mint could not keep up and had to reach out to San Francisco and Philadelphia to assist in production. Since none of the bullion coins have a mintmark, many of these coins have slipped past collectors who are non the wiser. Over the years, the Mint let this information out and collectors realized how desirable these coins have become. The only way to know which Mint produced the coins is from the mint's packaging and soon original monster boxes were sent in for verification and certified from the mint of origin with a mintmark in parentheses.
Philadelphia has helped for the years of :
2015 (P)
2016 (P)
2017 (P)
2020 (P)
In 2018, mint officials announced they had no intention to have bullion silver struck anywhere other than at the West Point mint. For that reason, this 2020 (P) Silver Eagle was something no one thought they would see again. That's why the "Emergency Production" coins are becoming so popular. You also add in the mintage figure of only 240,000 coins and they are far, far more rare than normal production coins! With the reverse design change coming next year, this could be an issue that collectors will be looking to find for years! So can this happen again? You bet and I hope it does. I just hope it's not because of another world pandemic! The American Silver Eagles are the most collected coins in the world and having a special issue that most people can afford only helps collectors and coin collecting as a whole.