Posted by Toby Adkins, Numismatic Scholar for currencyandcoin.com on May 25th 2021
A federal holiday in the United States for honoring and mourning the military personnel who have died in the performance of their military duties while serving in the United States Armed Forces.
So often in our busy lives, Memorial Day just becomes another day off, a reminder that summer is about to arrive, or a reason to gather with family over a long weekend. It is much more than that. It is a time to realize our freedom isn't free and remember those who have paid the price with their very lives. Come 3:00 Memorial Day, take a few moments with me to reflect.
The origin of Memorial Day is a little muddy with several organizations and communities celebrating their own holidays since the Civil War. As a country, we have also done this through our coins. Thirty one of our presidents are veterans, so naturally, we've seen many veterans on our coins. In this issue, we'll cover some coins specifically made to honor veteran men and women. This is not a complete list and will not include coins made for particular branches of service. However, it most likely will include some coins you may not know even existed.
1991 Korean War Memorial Silver Dollar
Struck on the 38th anniversary of the end of the Korean War. It was meant to commemorate and honor the end of the conflict and all of those who served in combat. The major design feature on the reverse is the 38th parallel splitting North and South Korea. Struck in Denver and Philadelphia.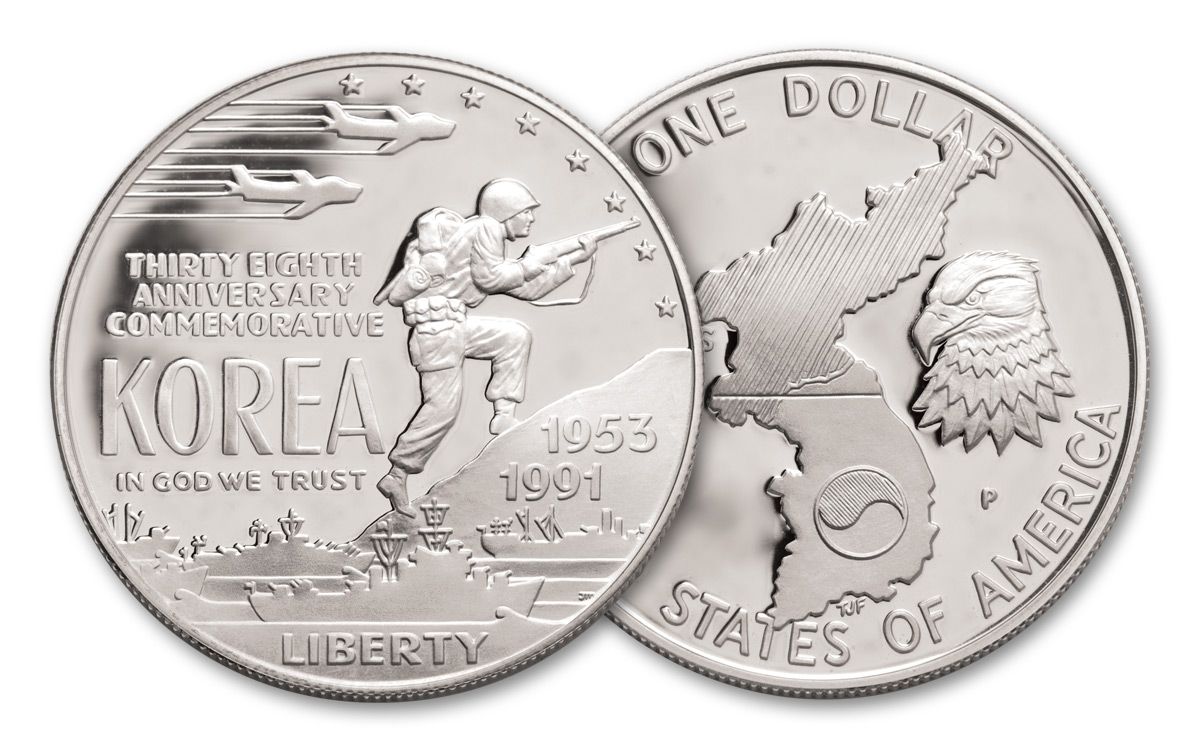 1993 50th Anniversary of World War II Coin Set
Commemorating the end of World War II and all who served, it consisted of two half dollars, two silver dollars, and two $5 gold coins. Each coin bears two dates (1991-1995) recognizing the 50th anniversary of the years of combat. Struck at Denver, Philadelphia, and West Point.
1994 United States Veterans Commemorative 3-Coin Silver Dollar Set
This set consists three coins, each to specifically honor a different group of veterans. It contains:
The 1994 Vietnam Veterans Memorial Silver Dollar, the 1994 U.S. Prisoner of War Museum Silver Dollar, and the 1994 Women in Military Service Memorial Silver Dollar. The uncirculated dollars were struck at West Point with the proof versions struck in Philadelphia. Surcharges from the sales of each coin were distributed to each organization to fund their memorial.

1998 Black Revolutionary War Patriots Silver Dollar
The obverse of the coin shows Crispus Attucks, and the reverse shows a detail from the Black Patriots Memorial, built on the National Mall. The memorial will honor not only the patriots, but their families as well. A surcharge of $10 benefited the establishment of an endowment to support the construction of a Black Revolutionary War Patriots Memorial. The silver dollars were struck only in San Francisco.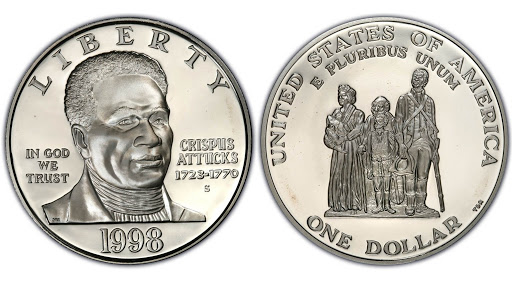 2018 WWI Centennial Silver Dollar
Struck in Philadelphia, this coin was made to commemorate the centennial of America's involvement in World War I and honor the more than 4 million men and women from the United States who served.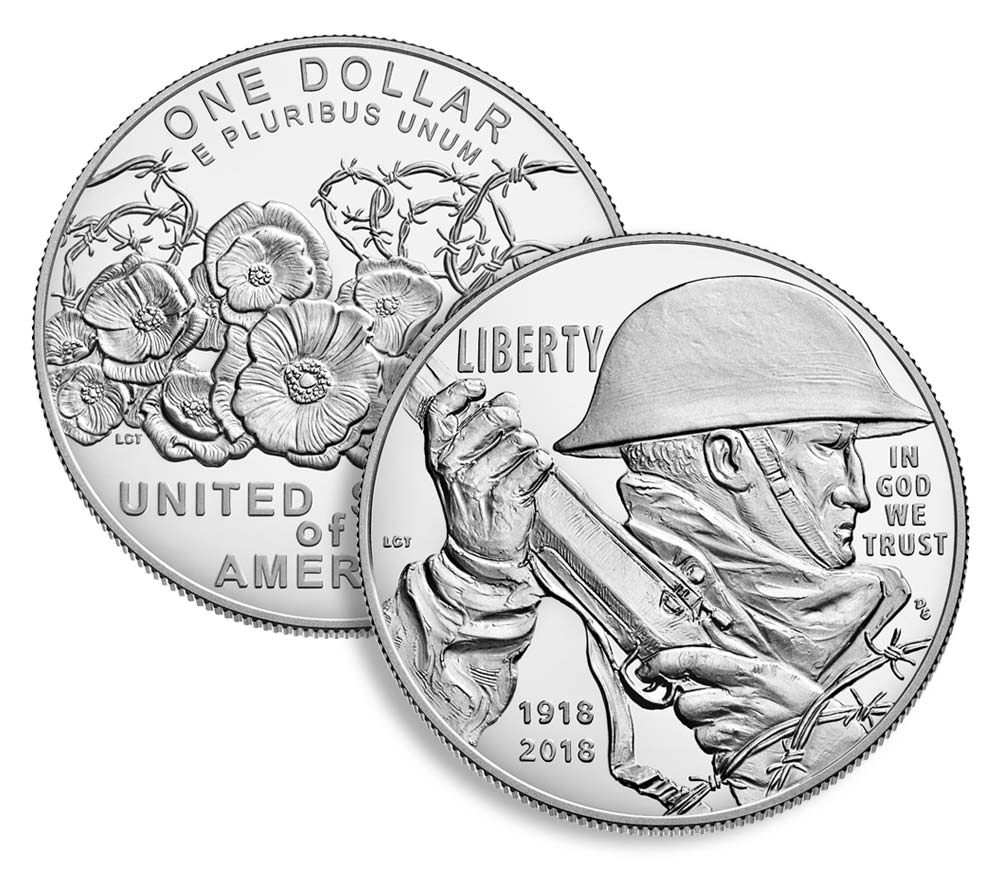 2020 End of WWII 75th Anniversary Silver and Gold
Though not a completely different design, these unique Silver and Gold American Eagles incorporates a special privy mark on its obverse to symbolize the 75th anniversary of the triumph of World War II. The mark "V75" symbolizes the 75th anniversary and both coins were struck at the West Point mint.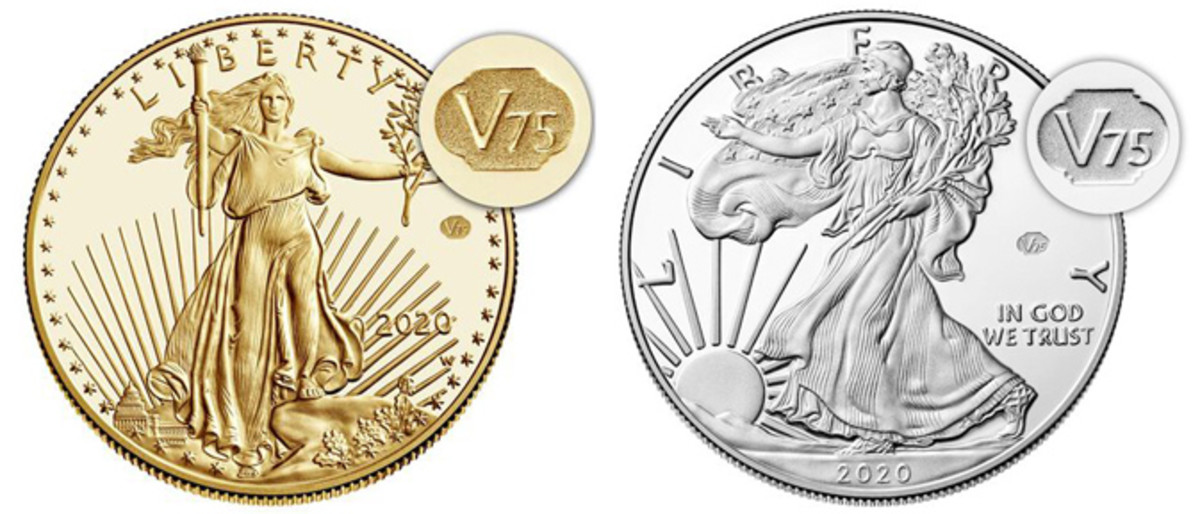 In summary, there is a long history of honoring our veterans for their service and it has even made it into our coinage. I hope some of you have collected a few of these special coins. On Memorial Day, remember those who gave all for our freedoms. If you run across a veteran, please thank them for their service. Most of all, always remember, freedom isn't free.