Posted by Toby Adkins, Numismatic Scholar for currencyandcoin.com on Mar 30th 2023
I have a shirt I never wear. It proudly says "Kiss me, I'm 1/3rd Irish!"... my wife hates it. In the spirit of March madness and St. Paddy's day, this blog will be Irish themed! Many of you are wondering what this has to do about coins. Arguably, America's greatest coin designer was born in Dublin, Ireland in 1848. Who is this, you ask? None other than Augustus Saint-Gaudens.
Augustus Saint-Gaudens (March 1, 1848 - August 3, 1907) immigrated to America with his parents at only 6 months of age and was raised in New York City. He is known as one of America's greatest sculptors and his work can still be found from New York to Philadelphia to Paris. If he never touched a coin, his name would still be known. However, in the Numismatic world, his name will forever be synonymous with the $20 Double Eagle St. Gaudens. Saint-Gaudens would ultimately design two coins before his battle with cancer would end in 1907. The $20 St. Gaudens and the $10 Indian are some of the most sought after coins by collectors today.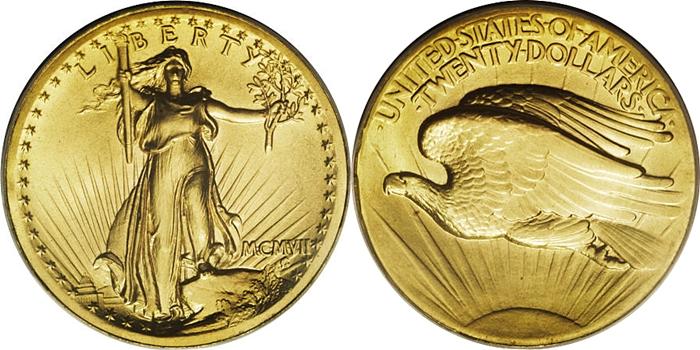 $20 Saint-Gaudens
When President Theodore Roosevelt wanted to change the look of our currency he turned to none other than Saint-Gaudens. Roosevelt saw the then current Liberty Head design as "atrociously hideous" and wanted to have a "renaissance" in American coinage. His commission of such a renowned sculptor was a statement itself into how truly determined he was to do something different. It caused such a stir within the U.S. Mint that Roosevelt influenced the design through his own Presidential orders. President Roosevelt was a deeply religious man and did not want In God We Trust on the original 1907 design. His belief was that inscribing the deity's name on coins which might be used for criminal purposes was blasphemy. Saint-Gaudens himself would not live to see his $20 design go into circulation but it has often been described as America's most beautiful coin.
$10 Indian
Augustus Saint-Gaudens $10 Indian is another design that has been heralded for it's beauty. A little known fact is that Saint-Gaudens stole the design from himself! Close inspection reveals the face of Lady Liberty on the coin was the same as the face of the goddess Nike he sculpted on his General Sherman monument in New York's Central Park. Of course, the addition of feathered warbonnet would earn this coin the "Indian Head" nickname that it still carries today. The standing eagle on the reverse of the coin was immediately praised in 1907 and many people believe that Saint-Gaudens' Egyptian and Roman influence in the design is some of his best work.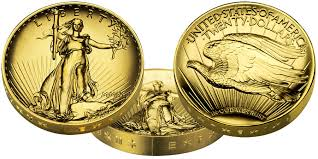 Modern Coinage
When President Reagan signed the Gold Act of 1985 to start production of modern gold and silver, Saint-Gaudens' design would return again for the obverse of the gold coins. There were slight variations in the design to help the minting process but his graceful Lady Liberty design has been used ever since in our modern coins. Finally, in 2009 his original 1907 design would be reproduced using modern technology. The 2009 $20 Ultra High Relief Gold coin is not only my favorite modern coin made but has become the favorite of many of you as well. Gaining immediate praise, the Mint even published a complimentary book with each coin to help tell the story. It took more than century but Saint-Gauden's story still lives on in our coins today. Happy collecting!